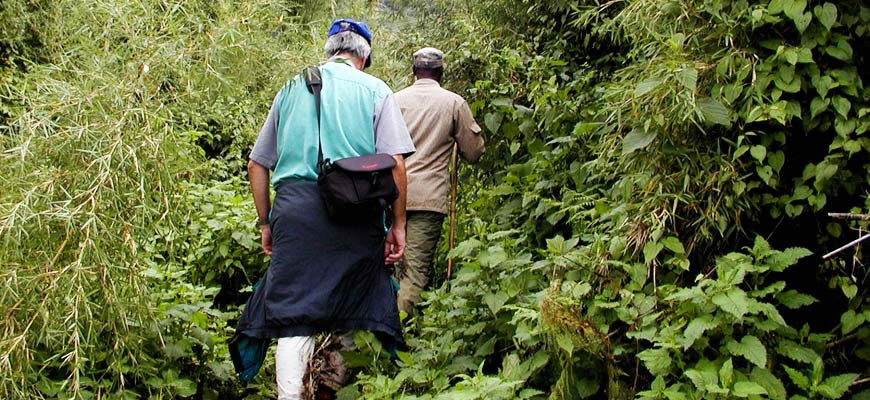 Guide to Visiting with mountain Gorilla in Africa
Despite continued efforts to conserve and protect mountain gorillas in the forested jungles of central Africa, gorillas are still endangered species facing a lot of threats, including poaching by the local communities, threat from local communities encroaching on their forested land due to the increasing population pushing the population to settle into gorilla habitant. Today, mountain gorillas live in the Virunga volcanoes region which covers 3 national parks including Mgahinga national park on the Ugandan side, Virunga national park on Congo side and Volcanoes national park on the Rwandan side and in Bwindi impenetrable forest national park with their population estimated to be at about 880 gorillas.
The major threats on lives of mountain gorillas are humans who right from Dian Fossey's time poached these gentle giants leading to a great decline in their population to an extent of facing extinction. Thanks to international and local conservation efforts and governments in the respective countries, the numbers of gorillas are steadily increasing as just witnessed from the Kwita Izina a- an annual new born baby gorilla naming ceremony, which shows each year, a number of new borns join the gorilla population.
Gorilla tourism in Africa has caught the eye of international travellers flocking Uganda, Rwanda and DRC and every year the number of tourists heading in the misty mountains of Bwindi impenetrable forest and the Virunga volcanoes increases. For visitors going to trek gorillas, each day first gather at the different national park headquarters where they are given an informative talk on the dos and don'ts of seeing mountain gorillas in the jungle. They are also told about the major characters of the mountain gorilla family they will be trekking. Briefing is done by a head guide / ranger guide who leads you into the forested mountains as they hike looking for the magnificent creatures.
Trekking to see gorillas in the jungle lasts from about 1 to 8 hours depending on the location of your gorilla group. Mountain gorillas are wild animals and they keep moving which means the time to find them is unpredictable, although ranger guides go into the forest earlier to locate their actual location before the hike sets off, so they have a rough idea of where to go find them. When you finally meet your gorilla group, you get to the mountain gorillas; you are given just an hour to spend with these magical animals. The hour may seem short, emotional and quite memorable. Very expensive venture but quite rewarding as you the mountain gorillas relax in their families most times even while not bothered about your presence.
When the hour elapses, you are informed by your guide who then directs you back to the national park headquarters for your certificates of participation and there after go for a community tour or to your lodge/hotel. It's hard to explain with words how amazing and awesome viewing the mountain gorillas in the mist can be. It's very unforgettable and in fact a wildlife safari activity that should be on the must do lists of the adventurous tourists.
Visitors can go gorilla trekking in all Uganda, Rwanda and Congo and all 3 are very secure. At Brovad safaris, we take you to see gorillas in all 3 countries, through Rwanda to Congo and back and to Uganda. Best time to travel on a gorilla tour is during the dry seasons as hiking is a lot easier than muddy wet seasons although its possible for go visit in the rainy season, and in fact in Uganda the mountain gorilla permits are usually reduced from $600 to $350. Even though it rains, it does not stop people from going to the forests and be part of the incredible mountain gorilla experiences. Mountain gorilla permits are sold at $750 and $500 in Rwanda and DRC respectively while in Uganda they are sold at $600 during the peak season and $350 during the low tourists season.